Lina F. Sanchez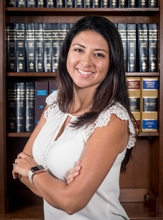 Lina F. Sanchez was born and raised in Armenia, Colombia. She graduated from High School in 1995. She is a 2000 graduate of Manizales Catholic University with a degree in Advertising and Marketing.

After relocating from Colombia to the U.S. in 2001, her marketing and communication skills prepared her for working with clients facing legal challenges. Lina, joined the Negroni Law Group in 2009. She works as a litigation specialist in personal injury claims.

Lina works hard but also enjoys traveling, shopping and sharing with her family.
"It will be my pleasure to assist you through your legal process."
- Lina F. Sanchez