Ashley Gonzalez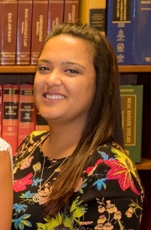 Ashley Gonzalez was born in Queens, New York and raised in South Florida. She graduated from High School in 2008.
Ashley joined the Negroni Law Group in 2015. She works as a Legal Assistant in personal injury claims.

Ashley works hard but also enjoys shopping, movies and spending time with her family.
"Train Your Mind to See the Good in Everything and Embrace the Pace of Your Own Journey".